REV. DR. JOYCE ARYEE
Executive Director - Salt and Light Ministries, GHANA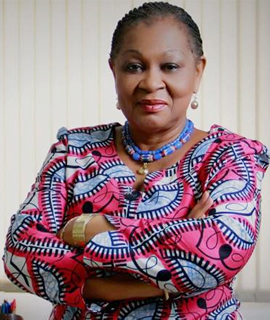 "I was faced with the usual opposition of not being accepted in a male dominated world" – Dr. Joyce Aryee-
Dr. Joyce Aryee is one o f the few exceptionally multi talented professional women in Ghana. Having served in public service excellently for over three decades, she is currently retired but still in active service at the Salt and Light Ministries where she is the Executive Director. Dr. Aryee is a Management & Communication Consultant and a Professional Counselor. She currently consults for Keegan Resources (Ghana) Limited and serves on the boards of diverse organisations including Stanbic Bank Ghana Limited, Central University College, Finatrade Foundation, AEL Mining Services Limited, GLICO General, Engineers and Planners, Omatek Computers, The Ark Fund and MAN Ghana Limited, Drill Masters Africa, Newmont Gold Ghana Gold Limited and Newmont Golden Ridge Limited as well as the Moremi Initiative for Women in Leadership for African Development, a mentorship institution for young Africans, to mention but a few.
The humble beginnings of the erudite Joyce Aryee is nothing to be compared with her great remarkable feats and achievements.
Having lost her father at age 7, she and her 4 siblings had to depend on their mother's sweat and struggle to make a mark in life.
"My father, the late Jonas B. K. Aryee was a Postmaster and my mother Madam Marian Ewuresi Idun, a Telephonist. My father died in 1953, when I was seven years old, so my mother had to bring us up single-handedly amidst harsh financial difficulties.
My mother was determined that whatever it cost, she would ensure that we had the best of education. She sold her belongings, baked and did embroidery to supplement her income and even borrowed from friends to raise us up well. I couldn't disappoint her," she recounts.
Ironically as a teenager, she did not have the slightest indication that she will be who she is today, except for the fact that she wanted to be good at every thing she found herself doing and to also affect her society positively.
After her secondary school education at Achimota School, she proceeded to the University of Ghana for a Bachelor of Arts Hons in English. She also has a Post Graduate Certificate in Public Administration from the Ghana Institute of Management and Public Administration (GIMPA).
She is a recipient of a number of awards. In 2010, she was awarded the Female African Business Leader of the year 2009, by the African Leadership Magazine for her empowerment of rural women and for contributing to the advancement of the mining industry in Ghana.
In 2009 she received an honorary doctorate degree from the University of Mines and Technology (UMaT).
In March 2010, the Council of the Ghana Institution of Engineers conferred on her the Class of Honorary Fellow for her exemplary leadership at the Chamber of Mines, and her contribution to the education and training of engineers for the mining industry.
Dr Aryee is the first female amongst four to be bestowed the Class of Honorary Fellow by the Ghana Institution of Engineers since the inception of the Institution in 1958.
In 2006, she was awarded the Order of the Volta of Ghana (Companion) (CV) by the President of the Republic of Ghana in 2006. She is also recipient of the CIMG Marketing Woman of the year 2007 award.
Her career in public service began immediately after her first degree, at the West African Examination Council (WAEC) as a Test Development and Research Officer.
In 1983 she made her way into politics under the PNDC Administration, earning for herself four ministerial appointments within a span of Eight and half years.
This began with the office of the Minister for Information in 1985, followed by the office of the Minister for Education, Minister for Local Government and then a non-cabinet minister at the National Commission for Democracy.
Having maintained excellence in service, she was engaged as the Chief Executive Officer of Chamber of Mines in 2001.
Aunty Joyce as she is popularly called says that apart from God and the support of family and colleagues, personal traits such as discipline, diligence, steadfastness, desire to learn as well as patience have brought her this far in life.
"I am highly disciplined, self-motivated, responsive to responsibilities, goal driven, independent and fair minded. I love challenging jobs as well. To soar high in life one must possess these qualities."
She is also quick to add, that while climbing the ladder of success in her career, her major challenge was male chauvinism.
"I was faced with the usual opposition of not being accepted in a male dominated world," however she says she did not take this personally, but proved her self through hard work and discipline.
"I understood the situation so I didn't take things personal. I rather felt sorry for those who were so strongly opposed to women doing the kind of things they can do."
Her position as the CEO of the Ghana Chamber of Mines also came with its challenges. However, with patience, excellence, humility and determination she has been able to sail through these challenges.
"One of the greatest challenges was thinking about ways to get people to appreciate that mining was very fundamental to every sphere of our lives and correcting the perception that mining destroys." She explains.
Aunty Joyce says that staying on top is no mean business as it requires a lot of humility, honesty, respect for others and the understanding that it is a team that brings success not an individual.
At sixty-seven, she still finds time to read, even with her busy schedule. In the next five years, Dr. Aryee says she will still be serving her God and the country in the best way she can.
"I will be heavily involved in Christian ministry as well as in other types of work that will impact my generation for good"
She is a single mother of one son and a grandmother to three adorable children.
Her word to the male folk is that they should learn to accept that no one is born to be in the kitchen. "There are many ways in which we can effectively play our role in society. The important thing is to be effective in what you do" she says.
And to the women folk, she says that the important thing is for women to recognize their relevance and project themselves at every stage of life.